Stealth S3 Sedan with IPE Turboback Exhaust
I've only seen a couple of Audi's crystal effect 'Panther Black' up close, but wow do they look amazing. Here we have a great example where the owner has already blacked out the RS3 style grille, had the calipers painted and fitted a very nice set of Stance 20" wheels with a brushed clear coat finish. To bring it all together the owner has opted for the IPE Turboback exhaust with it's valvetronic functionality allowing him to switch between a comfortable cruising mode and a loud show stopping mode, complete with epic DSG upshifts!
Whilst the regular system comes with chrome polished exhaust tips, in keeping with the black theme of the car we have gone for the optional 'diamond black' exhaust tips, a special order item that is beautifully crafted by IPE's engineers but the wait is definitely worth it!

BMW E60 M5 gets an IPE exhaust and improved stance
Here we have an 'almost classic', a dying breed in the sense that a V10 as glorious as this is unlikely to be produced ever again. Thus as a fitting tribute we fitted up the best exhaust on the market to really hear that Formula 1 inspired engine. The IPE valvetronic exhaust is a beautiful unit, finished in high polished stainless steel it includes everything after the headers making it a proper 'catback' system, complete with X pipe and nicely finished polished exhaust tips. To further enhance the vehicle's stance we fitted it out with a set of H&R sports springs along with spacers, making the original wheels look tougher and finishing the whole look.

Maserati Ghibli lowered on stunning set of Vorsteiner wheels
The Ghibli is Maserati's answer to the likes of the 5-Series and E-Class and whilst packaging, dimensions, drivetrains may seem similar the Italians certainly didn't skimp on adding some flair to the styling. The aggressive shark like front end, the vents on the front guards borrowed from bigger brother Quattroporte and those sculpted rear quarters all present an exotic looking sedan. Still didn't stop us from doing our best to improve upon the Italian's efforts, with a subtle lowering achieved with a set of H&R sport springs as well as a set of lightweight flow formed Vorsteiner V-FF 101 wheels finished in the unique Carbon Graphite, this Italian will certainly stand out in a sea of other sedans.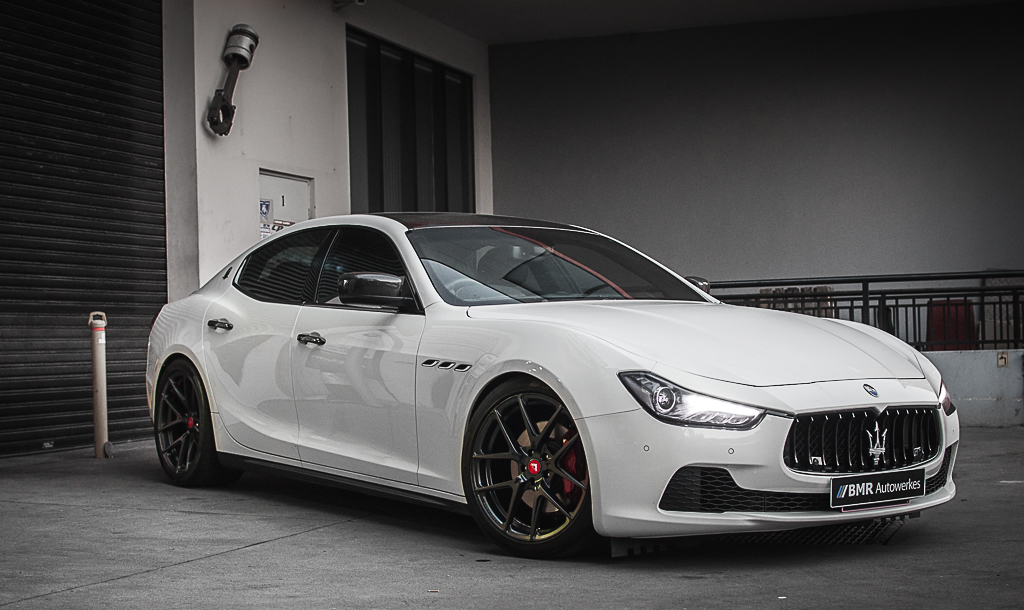 Maserati GranTurismo gets unleashed with an IPE Exhaust
The Maserati GranTurismo was never quiet in the first place. In fact the Ferrari sourced engine has to go down as one of the best sounding exhaust/engine combinations on the market today. Still, this didn't stop the engineers at IPE setting out to create something better and they certainly did deliver! The standard Maserati exhaust has valves linked to the sports button so it wasn't necessary to change that. In fact the rear mufflers capture that Italian sound so perfectly all the work was done in the mid pipe. By replacing the factory midpipe with restrictive cat there is not only a noticeable power increase, even on the stock tune, but it unleashes more noise. The IPE replacement is made of 304 Stainless Steel and has a pair of high quality high flow cats. Think of it now as an angry sounding Maserati, approx 20% louder under load and 20% more angry sounding. A definite improvement in anyones books.
Audi S3 Double Trouble
Presenting two 8V Audi S3s here, one in sportback form and one in sedan, we have a similar set of modifications on each. Being the best S3 Audi has made to date, it only made sense we used the best parts on these. With the high quality awesome sounding Innotech Performance Exhaust, these systems have really transformed the car and given it a much needed 'voice'. The cars are also riding on Vorsteiner wheels - these are top quality flow formed wheels that fit the S3s perfectly. Vorsteiner wheels are available in a range of applications for late model Euro cars and they won't break the bank either. Below picture taken by the ever talented Ricky Rigutto, you can check out more of his work here
BMW 'M235i' Hatch Project
Whilst we did the main facelift on this F20 M135i quite a few months back, we only got around to finishing it off last week with a set of Bilstein B16 coilovers and the M performance front lip. As you can see, the end result is stunning - we now have an F20 with the F22 M235i front end with it's super sharp lines, creating one very unique sportback vehicle.

Lapiz Blue VW Mk7R in for an IPE Exhaust
As anyone who has been in or around the latest MK7R knows, they are brilliant cars but the standard exhaust is just a tad boring and quiet! The character of the exhaust note doesn't suit the performance of the car at all, so we've set about to rectify that with an IPE Catback Exhaust on this gorgeous Lapiz Blue example. Taking advantage of our promotion for 50% discount off install, the customer had us install this while he waited.
The finished result did not disappoint. As the IPE is valved, the open mode offers very entertaining crackles and pops while closed mode is perfect for comfortable cruising. Exiting the four larger polished IPE exhaust tips, the trademark DSG pop on upshifts is amplified and will make you smile every time!
E92 M3 gets Supercharged!
The E92 M3 has got to be one of the greatest cars of the 21st century. It represents the last of the naturally aspirated era and brings with it a gem of an engine, a brilliant dual clutch transmission and a very well sorted chassis. That said it could still benefit from some enhancements and on this particular example we have bolted up an Australian made Harrop supercharger. Finaly dyno results were in the 350rwkw region. Other enhancements included KW Height Adjustable Springs, an FI Exhaust and some subtle wheel spacers to improve the stance of the OEM Satin Black M359 wheels.

M4 gets M Performance Front Lip, Sideskirt Extensions and Carbon Fibre Mirrors
This 2 week old M4 visited us for some enhancements. The aim was to keep it subtle, yet improve on BMW's already stunning and aggressive design. To achieve this, we added some genuine BMW M Performance accessories to lend a little more aggression. The Carbon Fibre splitters on the front are extremely high quality and the matte black front lip makes the car appear meaner and lower. The sideskirt extensions blend in well with the front lip and the high quality carbon fibre mirrors match the carbon fibre splitters, as well as making the car appear wider. Let us know what we can do for your M3/M4 or your car by getting in touch with us today!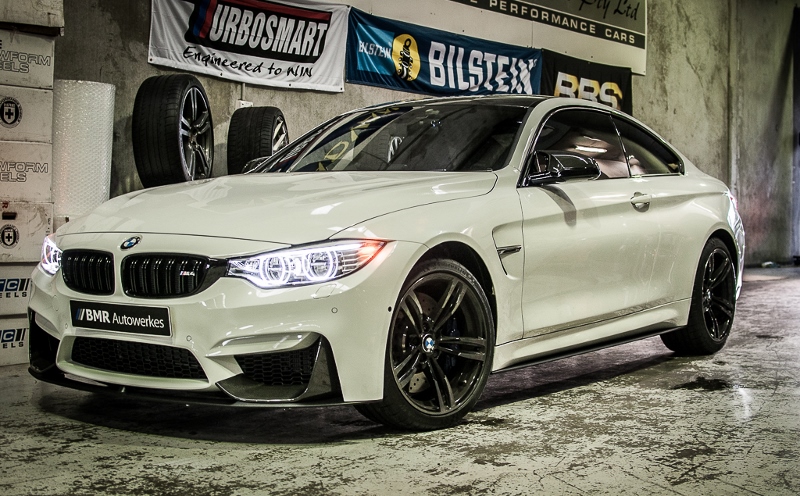 BMW 3-Series F30 gets Vorsteiner V-FF 103 Mystic Black Wheels
Super excited to show off the range of flow form wheels by Vorsteiner, these wheels are noticeably lighter than original wheels whilst being stronger thanks to their flow form (or flow forged) construction. We'll let the pictures speak for themselves on this one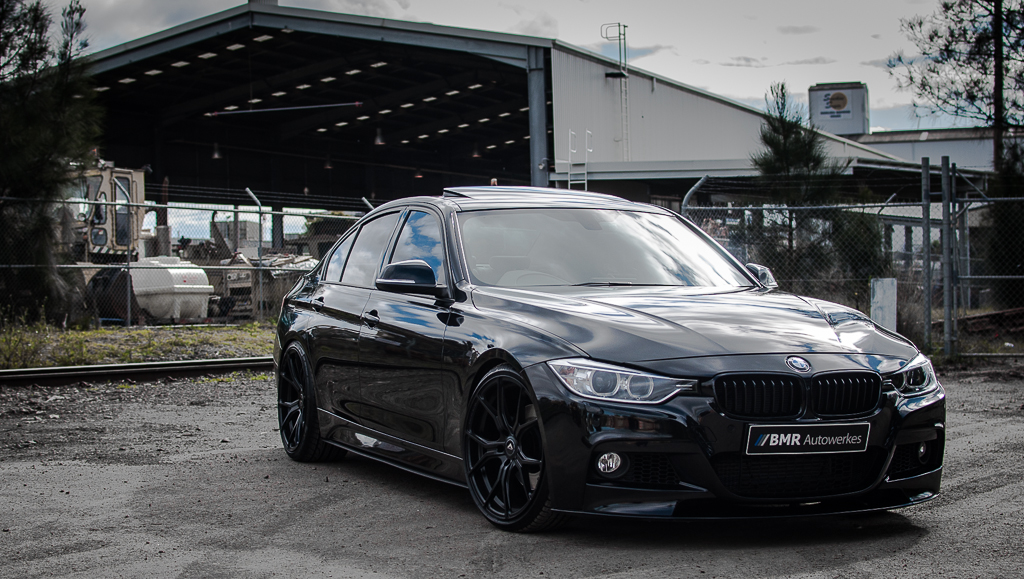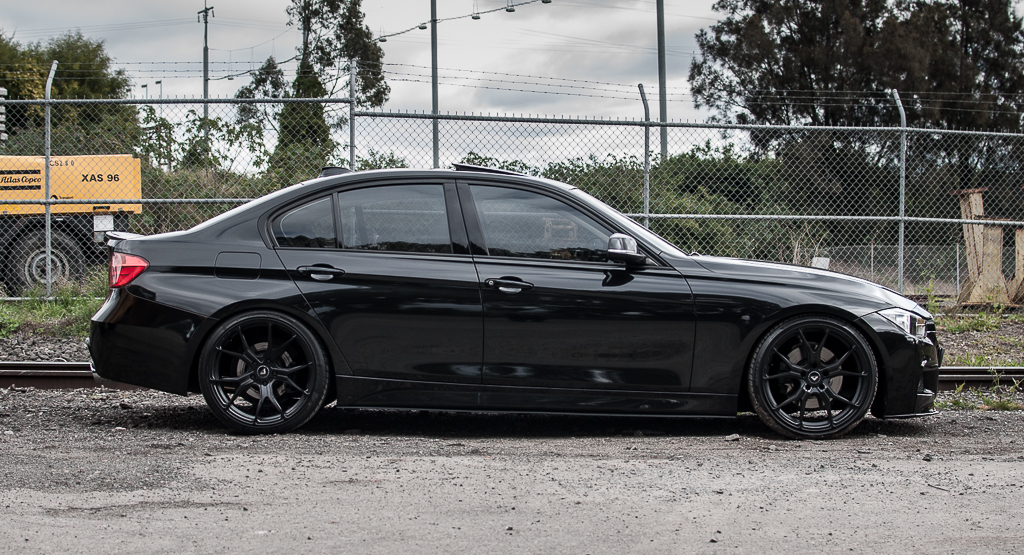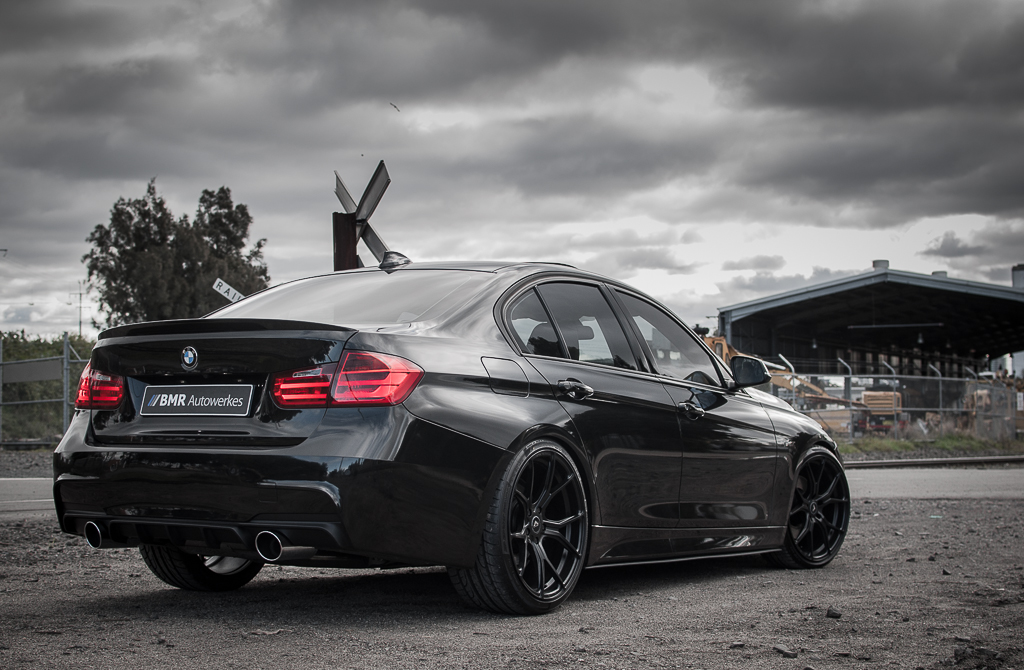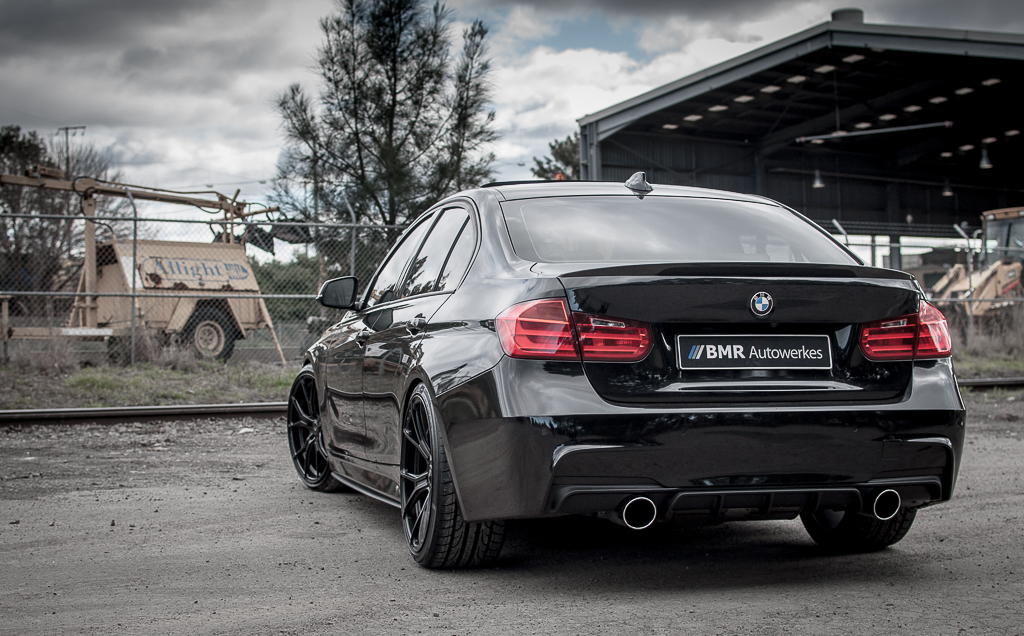 E90 M3 lowered on Bilstein B16 Coilovers with DPE Wheels and IPE Exhaust
Complete with baby seat this E90 M3 has now become the perfect family hauler. With remote control valves for the IPE exhaust, this allows the owner to switch between 'cruise' and 'loud' modes. As with the adjustable dampening on the Bilstein suspension you can either rock the baby to sleep or firmen it up when attacking your favourite set of twisties on a solo drive.
Originally this M3 came to us in original condition. We fitted up the DPE wheels but then it was apparent the car needed to be lowered to really show off the forged wheels. Soon after a set of Bilstein B16 coilovers (formerly known as the PSS10) was ordered in and we set about setting this up for a comfortable daily driver. In order to hear that V8 a little better we added an IPE exhaust with the high polished chrome tips to set the wheels off. For a bit more 'oopmh' we tuned the S65 V8, getting an extra 30kw at the rear wheels through one of our in house tunes. Visually, a carbon fibre diffuser and carbon fibre spoiler were added, further accentuating the fat rear end of the M3's widebody and those quad tailpipes.